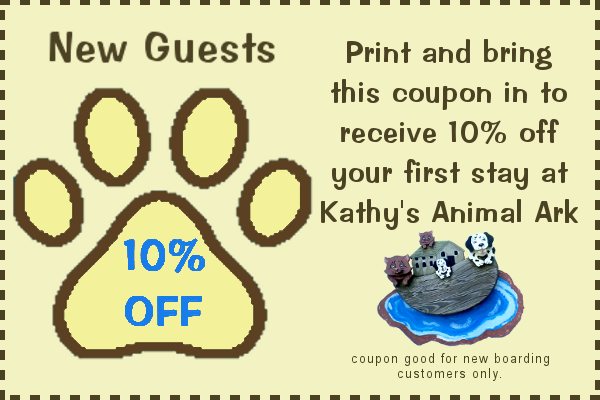 Boarding
We offer pet boarding for most small animals including: dogs, cats, ferrets & rabbits.  If it's a pet to you, it's probably welcome at the Animal Ark. Boarding fees are based on pet species and length of stay.
Dogs are $15.00 per day
Cat are $5.00 per day
Most other pets are $5.00
Special weekly / monthly & multi-pet discount rates available.
Grooming
We groom dogs and cats. Includes: hair cuts, baths, comb-outs, ear & eye cleaning and nail trims. Grooming fees vary and based on pet size, hair type & coat condition.
"Fantastic loving care given. My dogs loved going to visit and always had great care. Very clean." Cyndy H.
The Ark is heated & air conditioned and is equipped with indoor / outdoor runs for nice sunny days.   Each dog is individually walked several times each day and we also have a large fenced in area for off-leash play.  Each dog run is furnished with a bed and owners are encouraged to bring any favorite blankets, pillows, toys and treats to make their pets feel more comfortable and at home.  Cat pens are spacious and cats are allowed to bird-watch and explore indoors.
Vaccinations Required
Rabies
Parvo
Distemper
Bordatella
Proof of current vaccinations is required for ALL PETS that receive any services at Kathy's Animal Ark. All vaccinations must be administered at least 48 hours prior to check-in, by a licensed veterinarian. We must receive written proof from a licensed veterinarian, documenting that the pet has received the above vaccinations. We apologize in advance for any inconvenience, but due to concerns of human and animal safety, we are not able to make exceptions.
Medications
Medication administration is provided at no additional charge during your pet's stay. All medication must be provided at check-in, and administration procedure must be documented in writing prior to your departure. Please bring a list of all medications and dosage information. Please allow sufficient time to accomplish this accurately. Additionally, we request that you bring with you sufficient medication for at least two additional days' stay. In the event your return is delayed, your pet will still be safe and healthy when you return.
Bedding
All pets are provided a warm comfy cot that is raise off the ground along with a clean blankie.
Exercise
Canine pets are provided 1200 square feet off-leash area to romp, run, & play. Often because we are in surrounded by woods the local wild life curiously come to visit with our playful guests. Our play area is filled with a pet-friendly, pea-sized gravel. This gravel ensures proper drainage, and prevents mud, allowing pets the opportunity to obtain adequate exercise, no matter what the weather. Additionally, the limestone gravel permits complete removal of animal waste, and the prevention of urine buildup, preventing the spread of disease. All dogs are exercised 3-4 times a day.
Feline pets have a large window to leisurely soak up the sun or stalk the local birds. Additionally cats have an indoor roaming area to play and get their curiosity on!
Food, Treats & Toys
We will provide your pets food, treats, and toys but we strongly encourage you bring their own from home. As much as we try to make every pet-kid feel at home, it's not the same as being home, but having a little piece of home makes them feel better.